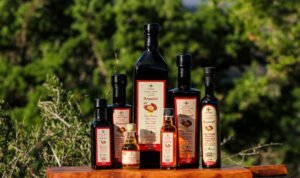 Moroccan Argan Oil – A Beauty   Secret Revealed
  Moroccan Argan Oil is a popular beauty product that is    extracted from the kernels of the Argan tree, which is       native to Morocco. This oil is rich in antioxidants,     essential fatty acids, and other nutrients that are beneficial for both the hair and skin. It is commonly used in hair and skincare products due to its moisturizing and nourishing properties. Argan Oil can help to hydrate dry hair and skin, reduce inflammation, and improve overall texture and appearance. If you are interested in purchasing pure Moroccan Argan Oil, there are many online retailers that offer a range of hair and skin products containing this ingredient.
Argan Oil is rich in vitamin E, antioxidants, and essential fatty acids, which make it an excellent moisturizer for both the hair and skin. Its lightweight texture allows it to be easily absorbed into the skin, providing deep hydration and nourishment without leaving behind any greasiness or residue.
Benefits for Hair: Nourish and Protect Your Hair with Argan Oils
One of the primary benefits of Moroccan Argan Oil is its ability to nourish and protect the hair. Its high concentration of fatty acids and vitamin E helps to repair damaged hair, reduce frizz, and promote healthy hair growth. Regular use of this oil can help to restore the natural shine and luster of your hair, leaving it soft and manageable.
In addition to its benefits for the hair, Argan Oil is also a powerful skincare ingredient. It has anti-inflammatory properties that can help to soothe irritated skin and reduce redness. Its high vitamin E content can also help to reduce the appearance of fine lines and wrinkles, making it an excellent addition to any anti-aging skincare routine.
Benefits for Skin: Argan Oils – A Powerful Skincare Ingredient
If you're interested in incorporating Argan Oil into your beauty routine, there are a variety of products available that contain this powerful ingredient. Shampoos, conditioners, and hair masks infused with Argan Oil can help to nourish and protect your hair. For skincare, Argan Oil can be found in moisturizers, serums, and face masks to provide deep hydration and nourishment.
Incorporating Argan Oils into Your Beauty Routine
When purchasing Moroccan Argan Oil, it's important to look for pure, high-quality products. Many cheaper oils on the market are diluted with other ingredients, which can reduce their effectiveness. Look for products that contain 100% pure Moroccan Argan Oil, and be wary of any that are sold at a suspiciously low price.
Unlock the Benefits of Argan Oil for Your Beauty Routine
 Argan Oil is a powerful beauty secret that has been used for centuries by Moroccan rural women. Its high concentration of essential nutrients makes it an excellent ingredient for both hair and skincare, and its lightweight texture allows it to be easily absorbed into the skin and hair without leaving behind any greasiness or residue. Consider incorporating Argan Oil into your beauty routine and experience its amazing benefits for yourself!
Argan oil is a highly prized oil that is not only used for cosmetic purposes but also as a flavorful ingredient in food. The oil is extracted from the nuts of the argan tree, which is native to Morocco. It has a nutty, rich flavor and is high in antioxidants and healthy fats. Argan oil is commonly used in traditional Moroccan dishes like tagines and couscous, as well as in salads and dips. It's also a popular ingredient in international cuisine and can be used as a finishing oil to add flavor and depth to dishes. Whether used as a cooking oil or a finishing oil, Moroccan argan oil is a delicious and healthy addition to any dish.
Showing 1–32 of 186 results
Rated 0 out of 5

MAD

70,00

NOURISHING MOISTURIZING HAIR MASK is a real treasure for your hair. Its unique formula, enriched with carefully selected repairing active ingredients